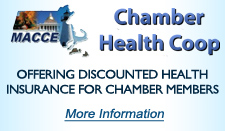 Long-awaited discounts for small businesses are here. The Massachusetts Association of Chamber of Commerce Executives (MACCE) recently introduced the Chamber Health Coop, a group purchasing program that makes health insurance more affordable for businesses with 1 to 50 full-time employees.
Any small business that belongs to one of the more than 60 participating chambers of commerce and other business associations is eligible to join the Chamber Health Coop. The Metro South Chamber of Commerce is among this first wave of organizations to make the program available to its members.
Our members can save hundreds or thousands of dollars a year on their health insurance from Fallon Community Health Plan, Harvard Pilgrim Health Care and Health New England, which are each discounting several of their plans. Fallon and Harvard Pilgrim are trimming rates by 3 percent, and Health New England by 5 percent. Businesses with a maximum
of 50 employees who work 30 or more hours a week can now enroll for coverage beginning as soon as August.
"The Commonwealth is pleased to support the new Chamber Health Coop through MACCE," said Governor Deval Patrick. "Small businesses are vital to our continued economic success here in the Commonwealth and we need more innovative programs like the coop to reduce the high costs of health care that inhibit growth and development." "Chambers have fought for years to lower the cost of health insurance. We are pleased that Governor Patrick, Senate President Murray, and Speaker DeLeo share this aim and helped pave the way for group purchasing cooperatives," said MACCE President Tom O'Rourke. "The Chamber Health Coop will give businesses one more tool they can use to lower the cost of insurance
for themselves and their employees."
In addition to offering savings on health insurance plans, the Chamber Health Coop provides wellness programs to help employees live healthier lives that in turn may help keep premium costs at bay. The health and wellness offering is free for all covered employees and their families.
To learn more, visit www.ChamberHealthCoop.com or email insurance@metrosouthchamber.com. To join the Chamber and take advantage of these health insurance discounts, contact Kathleen Lynch at 508.586.0500 x 229 or email klynch@metrosouthchamber.com.