Business After Hours are informal networking events held at member companies. Attendance ranges from 75 to 200 people. At Business After Hours, businesses are invited to introduce themselves to other businesses, enjoy refreshments, beverages, tours, prizes, and more. Don't forget your business cards!
If you are interested in hosting a Business After Hours networking event at your business, please contact Lexi Reinertson at (508) 586-0500 x 231.
The next Business After Hours is listed below!
---

Thursday, March 5– 5th Annual Multicultural Business Forum & Business After Hours, 5:00 pm – 7:30 pm at Fuller Craft Museum, 455 Oak Street in Brockton.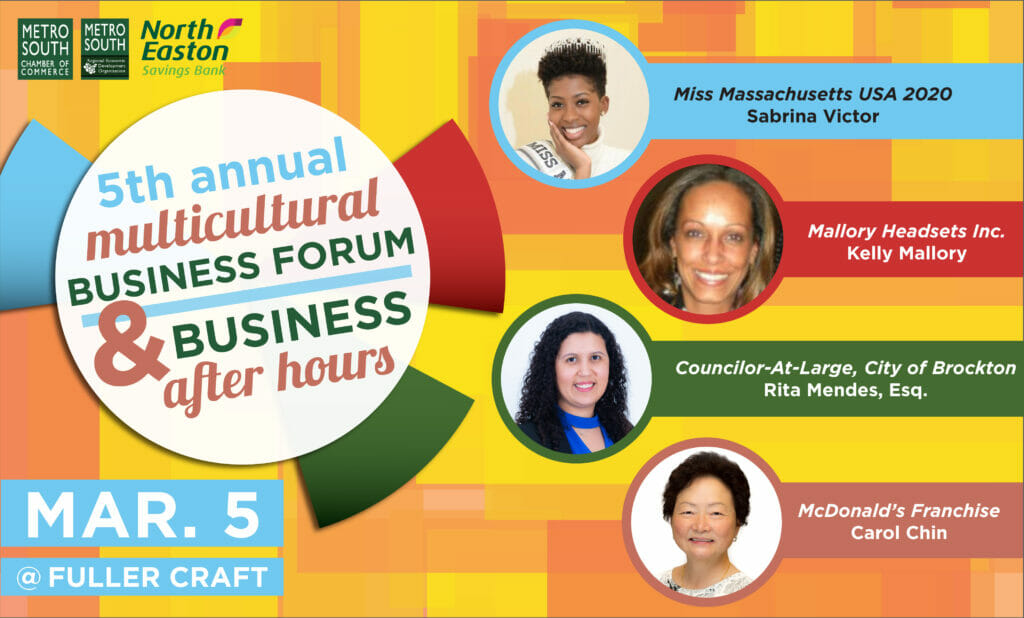 Join us Thursday, March 5 from 5:00 pm – 7:30 pm for the 5th Annual Multicultural Business Forum & Business After Hours. This is a great opportunity for potential and existing entrepreneurs to learn from helpful resources, network with local businesses, and hear from entrepreneurs who have successful businesses.
Opening remarks will be given by Secretary of Housing and Economic Development, Mike Kennealy; and U.S. SBA Regional Administrator, Wendell Davis.
Call to register your business to participate in the expo – it's free! Space is limited and booth space will sell out.
This event is complimentary and includes refreshments and great networking opportunities! To register/learn more contact Lexi, (508) 586-0500 x 231.
5:00 pm – Business Resource Expo & Networking
[The expo is currently full, please contact Lexi to be added to the waitlist.]
Learn about resources available to help start and grow your business. Experts will assist you on a variety of topics ranging from financing, developing a business plan, marketing your business, and winning government contracts. Expo participants include: BC Tent & Awning, Brockton NAACP, Brockton Redevelopment Authority, Consulate General – Cape Verde, DCAMM, Eastern Bank, Family & Community Resources, LegalShield, Massachusetts Office of Business Development (MOBD), MassHire Greater Brockton Workforce Board, Massachusetts Small Business Development Center, New York Life, North Easton Savings Bank, Old Colony Planning Council, Rockland Trust, SBA, SCORE, Self Help Head Start, South Shore Haitian Adult Day Center, U.S. Census, Victory Human Services, and more!
5:30 pm – Woman & Minority Owned Business Panel
Hear from a panel of local businesses as they share their success stories. Learn how they used their backgrounds to develop new ideas, leverage regional resources, and tap into new markets.
Brockton Councilor-At-Large, Rita Mendes. With a thriving law practice, real estate agency, and electronics business, Rita Mendes has become a leading Brazilian-American Attorney on the South Shore. Fluent in Portuguese and Spanish she has led the way for many of our new citizens to become home owners. As a trilingual attorney focusing on both civil and criminal litigation, she has fast become a go-to person for many who have immigration, criminal, divorce, and custody issues in the Brockton area. Rita Mendes received her Juris Doctorate degree from New England Law/Boston, undergraduate degree from the University of Massachusetts, Dartmouth. In 2019, she ran for the Brockton City Councilor At Large seat. She was sworn into office in January 2020 as the first Brazilian-American to hold office in Brockton.
Sabrina Victor proudly serves as Miss Massachusetts USA 2020! She is a performance activist, passionate about sharing diverse stories through all art forms. Hailing from Brockton Massachusetts, Sabrina graduated from the University of Massachusetts Amherst receiving two undergraduate degrees in Theater and Journalism, a Multicultural Theater Certificate, and Commonwealth Honors. She currently works in higher education as a Recruitment Assistant at Bridgewater State University, where she facilitates all part-time hiring for the institution. After hours, she is a professional actress in the Boston area with local and regional theaters. Her credited work includes award-winning American Repertory Theatre, SpeakEasy Stage, and Company One, all companies dedicated to new and diverse works. Sabrina serves as a mentor and member of the creative direction team within the Brockton High School Fine Arts Program. As an advocate for the arts, especially amongst marginalized groups with a lack of access to arts education, she encourages others to change the narratives of today through methods of performance that allow them to share their truths. As a Haitian-American, Sabrina believes in the importance of inclusivity and diversity in all aspects of life, and wants to continue inspiring young girls and boys to chase their dreams.
Carol Chin, McDonald's Franchise. "When Carol Chin came to America, she did not speak English and worked in a sewing factory. Today, Chin owns multiple McDonald's franchisees in the Boston/Brockton area, including the Chinatown location on Washington and Kneeland streets. She immigrated from Hong Kong to New York City for college, earning a bachelor's in accounting from Long Island University. She ran an accounting department with the New York Board of Education prior to deciding to open her own business and start a career with McDonald's. Chin and her husband finished a two-year training program for McDonald's franchisees, right as Boston was looking for an Asian operator to run the Chinatown location. 'We had just returned from Hamburger University and we opened the Chinatown store in 1990,' she said. As an owner-operator, Chin works on people development and marketing. 'In Chinatown, have you seen the sign for two fish sandwiches for $3.33?' she said. 'That's local store marketing, because we serve a lot of seniors. They come in pairs, so they each get a fish sandwich.' To serve the community, she finds the right people for the Chinatown store. 'We make sure we put a bilingual cashier up front,' Chin said. 'In case a customer comes in and they don't understand our food or they speak Chinese, hopefully we have a staffer who speaks their language.' Chin's success has enabled her to give back. 'I'm also involved with the community,' she said. 'We participate with the schools.' Chin is grateful for the opportunities she found in America. 'You have to work hard, no matter what career path you take,' she said. 'Work hard. Gain knowledge. Go learn whatever you like. There are a lot of training programs in the area that people can take.'"
Kelly Mallory of Mallory Headsets Inc. Mallory Headsets is a small telecom company that specializes in headsets, phones, VoIP and all telecom peripherals; in business for 23 years. They cater to all B2B and have a large portfolio of small, medium and very large accounts. Mallory Headsets offers many specialized services. Their small business model allows them to customize anything/everything in a moment's notice to accommodate a customer.
6:15pm – Business After Hours Networking
Meet hundreds of new potential clients during this Business After Hours event. Enjoy delicious food and drink while browsing the expo, career fair, and networking with members of the Metro South community.
---
Crescent Credit Union Business After Hours event. August 15, 2018 on the lawn of Donahue Hall, Stonehill College in Easton.
View a collection of photos from Business After Hours in the past.