Dear Metro South Community Members,
We want to express our deep gratitude to all our members for their partnership and understanding as we navigate this unprecedented situation. In particular, all of us are grateful for the public and private health care institutions, businesses, and employees who are on the front lines. The Metro South Chamber's goal in this pandemic is to assist all businesses during this time of economic difficulty. Research, education, consultation, networking and advocacy are where we are focusing our energy and resources. The Chamber's leaders, through the years, have taken great care to set aside the financial reserves necessary to continue the work of the Chamber. We look forward to our part in honoring a tradition of leadership begun more than a century ago. Currently, Chamber staff are working and accessible remotely. The office is open by appointment per Governor Baker's orders. In recent weeks, we have pivoted to ZOOM and on-line technology to provide an array of business resources and networking opportunities. While advances and precautions are prudent and necessary, it's also a time to show the compassion and leadership that the people of Metro South and Massachusetts are known for. It's a time for us all to support our neighbors and colleagues, and remember that we're all in this together. Let's also remember to not let fear overcome our instincts for empathy and humanity. We continue to share updates and resources accessible to our businesses via ZOOM calls on Friday at 2:00 p.m. We are joined by the Mayor of Brockton, the Massachusetts Office of Business Development, the United States Small Business Administration and special guests providing information and valuable contacts helpful to our business community. The Metro South Chamber has developed a web resource page with current offerings for our business community affected by the COVID-19 outbreak. Resources include business assistance loans, labor & employment updates, legislative action, working-from-home guidance, best practices, and services to help maintain communication and keep business moving forward! We urge you to visit the one-stop COVID-19 business resource guide for more information. www.metrosouthchamber.com/resources/covid-19-resource-guide.
The Baker-Polito Administration announced that Massachusetts will move forward in the Commonwealth's reopening plan to reopen certain outdoor Phase 4 industries effective May 10th, as previously announced. The Administration continues to take steps to reopen the Commonwealth's economy with public health metrics continuing to trend in a positive direction.
On March 22, Massachusetts loosened restrictions and advanced to Phase IV of the Commonwealth's reopening plan. Since then, daily new COVID-19 cases have dropped by 45%, hospitalizations have dropped by 23%, and deaths have dropped by 69%. All these metrics have dropped by around 80% or more since the beginning of the year. The Commonwealth also remains a national leader in COVID-19 vaccinations, and over 3.9 million people are fully or partially vaccinated, and Massachusetts is on track to meet its goal of vaccinating over 4 million people by the beginning of June.
Effective on May 10:
Massachusetts will reopen some outdoor Phase 4, Step 2 industries:

Amusement parks, theme parks and outdoor water parks will be permitted to operate at a 50% capacity after submitting safety plans to the Department of Public Health.
Road races and other large, outdoor organized amateur or professional group athletic events will be permitted to take place with staggered starts and other appropriate safety measures after submitting safety plans to a local board of health or the DPH.

Additionally, large capacity venues such as indoor and outdoor stadiums, arenas and ballparks currently open at 12% capacity as part of Phase 4, Step 1 will be permitted to increase capacity to 25%.
Youth and adult amateur sports tournaments will be allowed for moderate and high-risk sports.
Singing will also be permitted indoors with strict distancing requirements at performance venues, restaurants, event venues and other businesses.
Grocery stores and retail stores with a pharmacy department should consider dedicated hours of operation for seniors, but will no longer be required to offer senior hours.
Effective on May 29, Subject to public health and vaccination data:
Gathering limits will increase to 200 people indoors and 250 people outdoors for event venues, public settings and private settings.
Additional Phase 4, Step 2 industries will be permitted to open including

Street festivals, parades and agricultural festivals, at 50% of their previous capacity and after submitting safety plans to the local board of health.
Bars, beer gardens, breweries, wineries and distilleries, will be subject to restaurant rules with seated service only, a 90 minute limit and no dance floors.

The restaurant guidance will be updated to eliminate the requirement that food be served with alcohol and to increase the maximum table size to 10.
Effective on August 1: Subject to public health and vaccination data, remaining industries will be permitted to open including dance clubs, and nightclubs, saunas, hot-tubs, steam rooms at fitness centers, health clubs and other facilities, indoor water parks and ball pits. All industry restrictions will be lifted at that time, and capacity will increase to 100% for all industries, with businesses encouraged to continue following best practices. The gathering limit will be rescinded. Depending on vaccine distribution and public health data, the Administration may consider re-evaluating the August 1 date.
For more information, visit mass.gov/reopening.
—–
General business guidance
Information to help businesses meet the self-certification requirement to reopen. All businesses must meet these requirements before reopening.
COVID-19 control plan template – Template that satisfies the written control plan requirement for self-certification
Compliance attestation poster – Poster that businesses are required to print, sign, and post in an area within the business premises that is visible to workers and visitors
Employer and Worker posters – Posters that businesses can print and display within the business premises to describe the rules for maintaining social distancing, hygiene protocols, and cleaning and disinfecting
General business guidance documents and translations
More helpful links:
Brockton Neighborhood Health Center & Signature Healthcare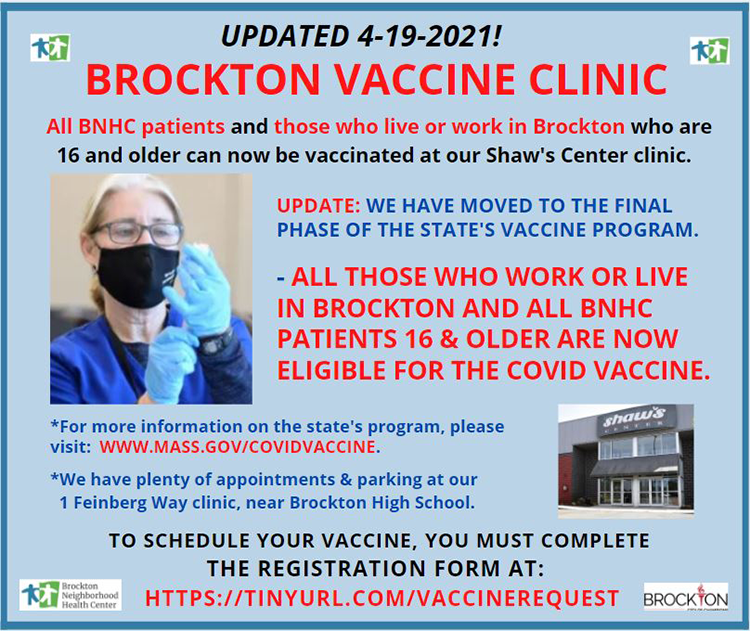 Small Business Assistance & Resource Center: COVID-19 Video Series
MSCC Economic Recovery Update Series with City, State, and Federal Officials
U.S. Small Business Administration (SBA)
To receive up to $10,000 as a forgivable SBA loan advance to help your business and our regional economy recover from COVID-19, follow this link: https://covid19relief.sba.gov/#/
Restaurant Revitalization Fund: This program provides emergency assistance for eligible restaurants, bars, and other qualifying businesses impacted by COVID-19
Shuttered Venue Operators Grant Application: The Shuttered Venue Operators Grant (SVOG) program was established through the Economic Aid to Hard-Hit Small Businesses, Nonprofits and Venues Act and amended by the America Rescue Plan Act to provide over $16 billion in economic relief to target industries. The SVOG application is slated to open April 8, 2021.
Economic Injury Disaster Loans are available to small businesses, small agricultural cooperatives, small businesses engaged in aquaculture, and private nonprofit organizations in Massachusetts as a result of drought that began on Aug. 18, 2020. The loans are available in the following counties: Berkshire, Essex, Franklin, Hampden, Hampshire, Middlesex, Nantucket, Plymouth and Suffolk in Massachusetts. (Link to the full press release here.)

Applicants may apply online using the Electronic Loan Application (ELA) via SBA's secure website at DisasterLoan.sba.gov and should apply under SBA declaration # 16741, not for the COVID-19 incident. Disaster loan information and application forms may also be obtained by calling the SBA's Customer Service Center at 800-659-2955 (800-877-8339 for the deaf and hard-of-hearing) or by sending an email to DisasterCustomerService@sba.gov. Loan applications can be downloaded from sba.gov/disaster.

SBA Debt Relief: SBA offers debt relief to existing SBA loan borrowers whose businesses have been impacted by COVID-19
Cross-Program Eligibility: A summary of the criteria to meet when considering different funding options
EIDL Program (Economic Injury Disaster Loan): EIDL offers Massachusetts businesses who are experiencing hardships resulting from the COVID-19 outbreak access to $2M in emergency loan capital with rates capped at 3.75%.
Supply Donation Requests
Brockton Neighborhood Health Center (BNHC)
Brockton Visiting Nurse Association (BVNA)
Funding Options & Other Resources
Service Alerts
Center for Disease Control (CDC)
U.S. Chamber of Commerce
The Executive Office of Labor and Workforce Development
Massachusetts Emergency Management Agency (MEMA)
MEMA's Emergency Operations Center's Private Sector Hotline will be staffed Monday-Friday, from 8AM-4PM, call (508)-820-2094.
SCORE
Labor & Employment, Municipal, Education, and HR Alerts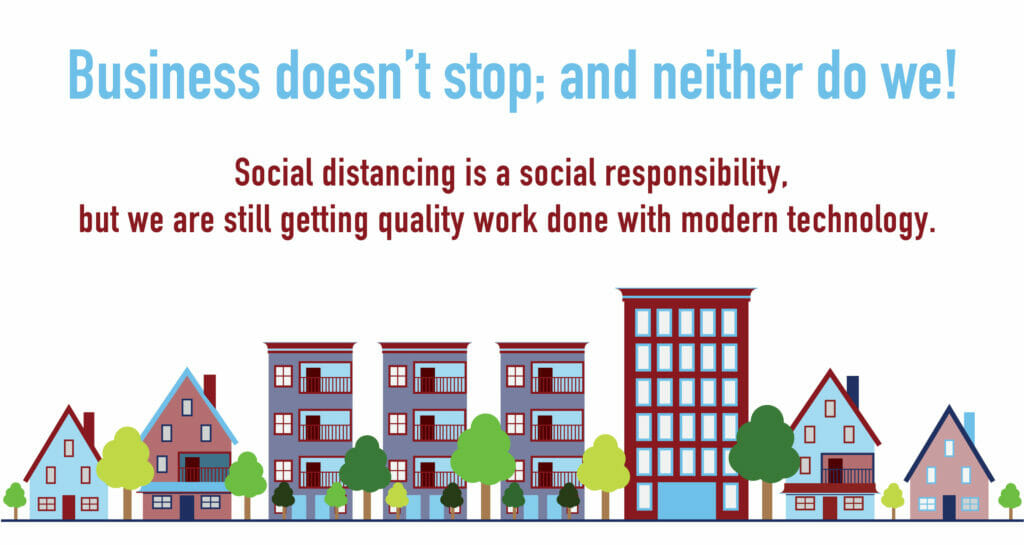 How to Work from Home, Effectively
Business doesn't stop, and neither do we! Now is the perfect time to work on perfecting new ways to connect and work together. New developments call for a new strategy. To that end, we're refocusing some of our resources to support digital members and community engagement. Be on the lookout for webinars, conference calls, video chats, and more! Below are several resources that are now being widely used, in an effort to keep business moving forward.
ZOOM: Zoom is the top video and web conferencing app. They offer a series of one-minute video introductions to help get you started seamlessly; webinars are also available, and you can request a demo at any time. Their basic (free) package offers 40 minute calls with up to 100 participants. Other packages include unlimited screen time, participants, and more. Forbes: Zoom CEO Eric Yuan is Giving K-12 Schools His Videoconferencing Tools For Free
Free Conference Call: Once you sign up, you will be provided with a Dial-in Number and Access Code for immediate conferencing, and on Online Meeting ID for hosting meetings with Screen Sharing and Video Conferencing. There's also an app available, making it even more accessible. Simple & easy conference calling right on your mobile device!
Google Remote Work hub: This link includes resources and free tools to help your own teams work smoothly, and to help you stay connected to the communities we serve. Here you'll find information on how to:
Work from anywhere: Best practices for effective communication and collaboration while working remotely and meeting via video conferencing.
Teach from anywhere: Support virtual learning and how workshops from anywhere using collaborative tools.
Learn from anywhere: Share training content through digital resources to that the people in your community can access online courses and curriculum.
Google has always created a new helpful site for small businesses with additional tips and recommendations to navigate this time of uncertainty for employees and customers.
Other resources:
Learning from Home
Restaurant Updates
Abington Ale House: Take-Out available 11:30am-7:00pm daily
1235 Bedford Street
Abington, MA 02351
(781) 871-6811
Barrett's Alehouse: Temporarily Closed
674 West Center Street
West Bridgewater, MA 02379
(508) 510-4204
Brack's Grille & Tap: Open for Take-Out & Delivery, check availability.
1280 Belmont Street
Brockton, MA 02301
(508) 271-7777
Buffalo Wild Wings: Open for Take-out & Delivery
486 Westgate Drive
Brockton, MA 02301
(508) 559-1409
Cape Cod Cafe, Inc.: Open for Take-Out
979 Main Street
Brockton, MA 02301
(508) 583-9420
George's: Open for Take-Out, Monday-Sunday 11am-10:30pm
228 Belmont Street
Brockton, MA 02301
(508) 588-4231
Good Days Restaurant, Inc.: Open for Take-Out Monday-Friday 11am-7pm, Saturday 9am-7pm, Sunday 8am-7pm
99 South Main Street
West Bridgewater, MA 02379
(508) 584-0077
Italian Kitchen: Open for Take-Out
1071 Main Street
Brockton, MA 02301
(508) 586-2100
JJ's Caffe: Temporarily Closed
610 N. Main Street
Brockton, MA 02301
(508) 510-4227
Joe Angelo's Cafe & Deli: Open for Take-Out & Delivery, 11am-10pm
11 Crescent Street
Brockton, MA 02301
(508) 588-8331
LongHorn Steakhouse: Open for Take-Out
800 US Road, Route 44
Raynham, MA 02767
(508) 821-9246
McDonald's: Open for Drive-Thru & Take-Out
664 Crescent Street
Brockton, MA 02302
(508) 586-4594
McGuiggan's Pub:Open for Take-Out, 4-8pm
546 Washington Street
Whitman, MA 02382
(781) 447-7333
Stonebridge Cafe: Open for Take-Out
1285 Belmont Street
Brockton, MA 02301
(508) 584-5200
Texas Roadhouse: Open for Take-Out
124 Westgate Drive
Brockton, MA 02301
(508) 427-6244
Yamato Japanese Steak House: Temporarily Closed
510 Westgate Drive
Brockton, MA 02301
(508) 588-8881