Dear Metro South Community Members,
The following is an update on how the Metro South Chamber is reacting to the COVID-19 outbreak.
We want to express our deep gratitude to all our members for their partnership and understanding as we navigate this unprecedented situation. In particular, all of us are grateful for the public and private health care institutions, businesses, and employees who are on the front lines.
As of Tuesday, March 24, 2020 Chamber staff will be working remotely and the building will be closed through May 4, 2020 per Governor Baker's orders. And while precautions are both prudent and necessary, it's also an opportunity to show the compassion and leadership that the people of Metro South and Massachusetts are known for. Support your neighbors and colleagues, and remember that we're all in this together. Let's not let fear overcome our instincts for empathy and humanity.
We will continue to share updates and resources to our member businesses as they become available in the coming weeks. The Metro South Chamber of Commerce is diligently recording updates coming from the Commonwealth of Massachusetts, Small Business Administration, MOBD, U.S. Chamber, SCORE, and more business resource organizations as we all come together to offer support for our business community.
Below is a list of online resources currently available and being developed. As you know, COVID-19 updates are coming in by the hour. The Metro South Chamber's goal in this pandemic is to assist our member businesses during a time of economic difficulty.
Congress, White House make deal on $2 Trillion stimulus package
Overnight, officials reached an agreement on the massive package that will directly help Americans and rescue the economy. (March 25, 2020)
White House Seeks Help from Manufacturers
The White House is reaching out to U.S. manufacturers to identify their capabilities to help the United States during the COVID-19 crisis. The administration is seeking volunteers who can donate and provide and/or produce within two weeks large-scale quantities of critical supplies to help the nation respond to the COVID-19 pandemic.
Center for Disease Control (CDC)
U.S. Chamber of Commerce
Small Business Administration (SBA)
Baker-Polito Administration, MA
The Executive Office of Labor and Workforce Development
Massachusetts Emergency Management Agency (MEMA)
MEMA's Emergency Operations Center's Private Sector Hotline will be staffed Monday-Friday, from 8AM-4PM, call (508)-820-2094.
SCORE
MSBDC – Prepare for Recovery!
Jill Beresford, MSBDC, talks COVID-19 business recovery resources on msbdc.org/semass
Labor & Employment, Municipal, Education, and HR Alerts from Murphy Hesse Toomey & Lehane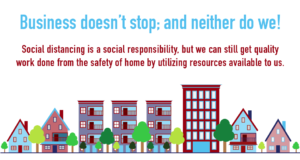 How to Work from Home, Effectively
Business doesn't stop, and neither do we! Now is the perfect time to work on perfecting new ways to connect and work together. New developments call for a new strategy. To that end, we're refocusing some of our resources to support digital members and community engagement. Be on the lookout for webinars, conference calls, video chats, and more! Below are several resources that are now being widely used, in an effort to keep business moving forward.
ZOOM: Zoom is the top video and web conferencing app. They offer a series of one-minute video introductions to help get you started seamlessly; webinars are also available, and you can request a demo at any time. Their basic (free) package offers 40 minute calls with up to 100 participants. Other packages include unlimited screen time, participants, and more. Forbes: Zoom CEO Eric Yuan is Giving K-12 Schools His Videoconferencing Tools For Free
Free Conference Call: Once you sign up, you will be provided with a Dial-in Number and Access Code for immediate conferencing, and on Online Meeting ID for hosting meetings with Screen Sharing and Video Conferencing. There's also an app available, making it even more accessible. Simple & easy conference calling right on your mobile device!
Google Remote Work hub: This link includes resources and free tools to help your own teams work smoothly, and to help you stay connected to the communities we serve. Here you'll find information on how to:
Work from anywhere: Best practices for effective communication and collaboration while working remotely and meeting via video conferencing.
Teach from anywhere: Support virtual learning and how workshops from anywhere using collaborative tools.
Learn from anywhere: Share training content through digital resources to that the people in your community can access online courses and curriculum.
Google has always created a new helpful site for small businesses with additional tips and recommendations to navigate this time of uncertainty for employees and customers.
Other resources:
Learning from Home
Restaurant Updates
Abington Ale House: Take-Out available 11:30am-7:00pm daily
1235 Bedford Street
Abington, MA 02351
(781) 871-6811
Barrett's Alehouse: Currently closed.
674 West Center Street
West Bridgewater, MA 02379
(508) 510-4204
Brack's Grille & Tap: Open for Take-Out & Delivery, check availability.
1280 Belmont Street
Brockton, MA 02301
(508) 271-7777
Buffalo Wild Wings: Open for Take-out & Delivery
486 Westgate Drive
Brockton, MA 02301
(508) 559-1409
Cape Cod Cafe, Inc.: Open for Take-Out
979 Main Street
Brockton, MA 02301
(508) 583-9420
George's: Open for Take-Out, Monday-Sunday 11am-10:30pm
228 Belmont Street
Brockton, MA 02301
(508) 588-4231
Good Days Restaurant, Inc.: Open for Take-Out 8am-6pm
99 South Main Street
West Bridgewater, MA 02379
(508) 584-0077
Italian Kitchen: Open for Take-Out
1071 Main Street
Brockton, MA 02301
(508) 586-2100
JJ's Caffe: Open for Online Take-Out Orders Only, Tuesday-Sunday, 8am-2pm
610 N. Main Street
Brockton, MA 02301
(508) 510-4227
Joe Angelo's Cafe & Deli: Open for Take-Out & Delivery, 11am-10pm
11 Crescent Street
Brockton, MA 02301
(508) 588-8331
LongHorn Steakhouse: Open for Take-Out
800 US Road, Route 44
Raynham, MA 02767
(508) 821-9246
McDonald's: Open for Drive-Thru & Take-Out
664 Crescent Street
Brockton, MA 02302
(508) 586-4594
McGuiggan's Pub:Open for Take-Out, 4-8pm
546 Washington Street
Whitman, MA 02382
(781) 447-7333
Stonebridge Cafe: Open for Take-Out
1285 Belmont Street
Brockton, MA 02301
(508) 584-5200
Texas Roudhouse: Open for Take-Out
124 Westgate Drive
Brockton, MA 02301
(508) 427-6244
Yamato Japanese Steak House: Currently closed.
510 Westgate Drive
Brockton, MA 02301
(508) 588-8881